Automate your supporters' "call your legislator" actions.
Do you work for or with an organization that sends out action alerts for supporters to call their legislators, a company or anyone else to ask for their support for LGBT equality?  When you do, how many supporters actually take action? I'm guessing the answer is "not enough."  Do you want to increase that number? Is your organization using Salsa / Democracy In Action? Yes? Read on…
When we send out action alerts with an ask for the supporter to make the call, our email blasts usually say something like:
Contact your both of your Senators by calling the Capitol switchboard at (202) 224-3121 (two calls). Tell the operator your state and ask to speak to your Senator. When you are connected to your Senator's office, ask for the staff member who works on Health and Human Services appropriations. To locate your U.S. senators' names, click here.  (From Queers for Economic Justice)
or
Contact your senator today to ask them to sign onto the Whitehouse letter in the Senate. To contact your senator, please call the Senate switchboard at 202.224.3121, tell them your state, and ask to speak to your senator.  (From LGBT Taskforce)
Approaches like this still depend on the supporter doing a bunch of manual steps to take the action. Look up your legislator. Look up a local branch of a company. Type the number into your phone. Call a switchboard, and ask who your legislator is, then ask to be connected. Possibly wait on hold for them connect you when dialing a direct number would be faster. These are all potential blockers to your supporter taking action.
Is there a better way? Yes.
Enter Jalapeno Click2Call for Salsa
I go to alot of technology and developer conferences for my day job and for activism work. When I find interesting tools that can help us win equality, I'll pass them along. Click2Call is a tool that can help.
Jalapeno Click2Call for Salsa is a tool that will let you automate the process for your supporters. Now instead of those manual steps, they can take action just a few clicks on your website.
They don't even have to dial a phone number.
If your organization is using Salsa/DemocracyInAction this tool is integrated directly into the platform.  As a campaign manager, you can create everything you need from your Salsa dashboard.  By adding their package from the Salsa Marketplace and a simple setup, you can get started quickly.
By using this tool, your email blasts go from this:
Contact your senator today to ask them to vote for DADT Repeal To contact your senator, please call the Senate switchboard at 202.224.3121, tell them your state, and ask to speak to your senator
to this instead:
Contact your senator today to ask them to vote for DADT Repeal. To get started, click:
With the Salsa platform, the system can figure out your supporter's legislator so when they click the dial buttons, it will call the right place.  Once they click this button, they will be taken to a screen where they are asked for relevant information.  Their information will also be saved into your Salsa supporter database.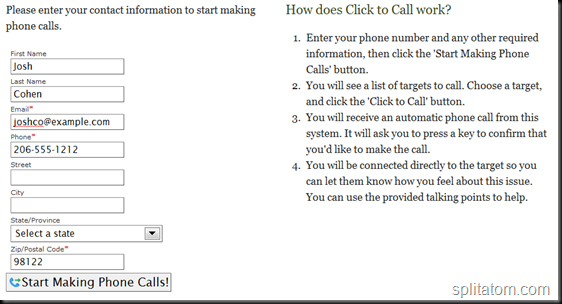 Once they fill out the required information and click the start button here, they are shown the dial page.  The dial page shows who their legislator is.  The supporter can click the "Click to Call" button OR dial it themselves if they would rather do that.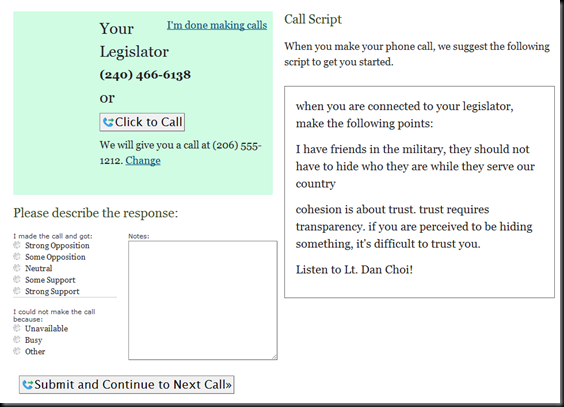 When the supporter clicks the call button, the system will call them at their phone number entered on the previous page.  When the supporter answers the call, they will be greeted with a message, asked to hit any key (to make sure they are human) and then connected with the legislator.
The page also has a script for them to follow, as well as a form to record the "score" and notes on the legislator's response. If the supporter has more than one legislator to call, the system will walk them through multiple calls when they click the "Submit and Continue to Next Call."
You can theme your pages with CSS and the usual Salsa templates.  When supporters take an action it is recorded in the supporter database attached to their record.    The C2C application is available in the Salsa marketplace and will provide detailed reporting of usage.
I put a screencast together that shows the supporter experience using C2C.  It's under 4 minutes.
http://www.youtube.com/watch?v=DkEYgNYpUyk
If you would rather try out the demo action in the video yourself, click here:
Note:  The demo is hosted on developer test accounts, it may have intermittent downtime.
How it works
The C2C service is a salsa integrated front end with Twilio on the backend.  Twilio is a telephony service that provides the actual phone calls.  So, when you use the service, you pay a per campaign fee to C2C plus minute based charges for the Twilio service.  C2C takes care of integrating the billing, so you don't need to deal with two vendors.
C2C actions are integrated into the Salsa advocacy campaigns.  When you set up a new action, you can create it as a C2C action.
There is also a WordPress plugin you can use to embed these actions on your own site.
The current introductory pricing seems reasonable.  If you have a supporter list of 3k-25k, you pay $50 for the action plus 0.05 per minute.  Thankfully, you can limit the maximum call time that supporters can make.
 
Unlimited Campaigns
Supporter List Size
Per Campaign**
Monthly*
Annual*
< 3k
$50 + 5¢/min
$150 + 5¢/min
$1,650 + 5¢/min
3k – 25k
$75 + 5¢/min
$225 + 5¢/min
$2,475 + 5¢/min
25k +
$100 + 5¢/min
$300 + 5¢/min
$3,300 + 5¢/min
 
For the most up-to-date information visit New Signature's website.
If you are interested in contacting me, click here.
HI